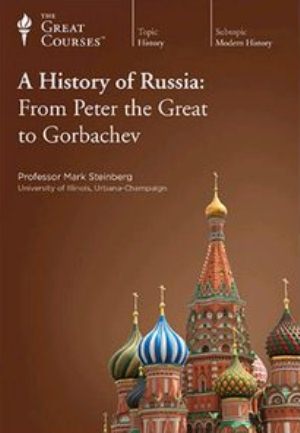 History of Russia: From Peter the Great to Gorbachev
36xDVDRip | AVI/XviD, ~545 kb/s | 640×432 | Duration: 18:33:22 | English: MP3, 128 kb/s (2 ch) | + PDF Guide | 5.3 GB
Genre: History
This course focuses on 300 years of Russian history from Peter the Great to Gorbachev by examining the lives of the men and women who, in fact, were Russia. This is history told through biography. You examine key individuals and groups, the contexts in which they thought and acted, and their driving ideas. Topics include the revolution of Peter the Great, Catherine the Great, the Decembrist Uprising, Belinskii and the early years of Russian Socialism, Alexander II, Nicholas II, Stalin, Gorbachev, and Communism, among others.
Professor Steinberg draws on his own years of experience as an author, a student in the Soviet Union in the 1980s, and, more recently, as a world-class historian granted access to once-secret government archives.
Lectures:
1 Understanding the Russian Past
2 The Russia of Peter the Great's Childhood
3 Peter the Great's Revolution
4 The Age of Empresses-Catherine the Great
5 Social Rebellion-The Purgachev Uprising
6 Moral Rebellion-Nikolai Novikov
7 Alexander I-Imagining Reform
8 The Decembrist Rebellion
9 Nicholas I-Orthodoxy, Autocracy, Nationality
10 Alexander Pushkin, Russia's National Poet
11 The Birth of the Intelligentsia
12 Westernizers-Vissarion Belinskii
13 Alexander II and the Great Reforms
14 "Nihilists"
15 Populists and Marxists
16 Paths to Revolution-Lenin and Martov
17 Lev Tolstoy
18 The Reign of Alexander III
19 Nicholas II, The Last Tsar
20 The Revolution of 1905
21 Peasant Life and Culture
22 The Modern City and Its Discontents
23 Fin-de-Siecle Culture-Decadence and Iconoclasm
24 Fin-de-Siecle Culture-The Religious Renaissance
25 War and Revolution
26 Democratic Russia-1917
27 Bolsheviks in Power
28 Civil War
29 Paths to Socialism-the 1920s
30 Joseph Stalin
31 Stalin's Revolution
32 Joy and Terror-Society and Culture in the 1930s
33 The "Great Patriotic War"
34 The Soviet Union After Stalin
35 Private and Public Dissidence
36 Mikhail Gorbachev-Perestroika and Glasnost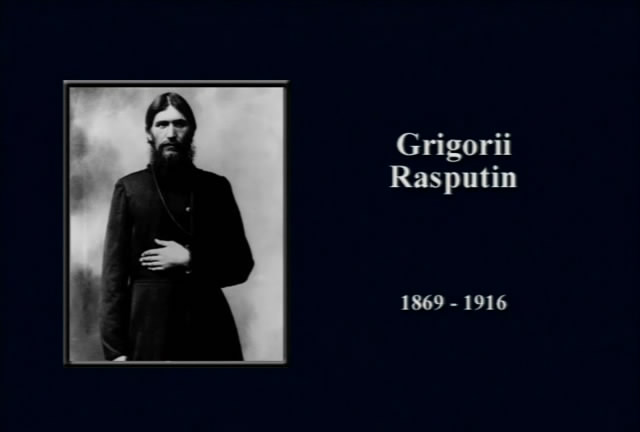 http://nitroflare.com/view/9466421371A4BA0/Hi.of.Ru.Fr.Pe.part1.rar
http://nitroflare.com/view/29A2C466424697C/Hi.of.Ru.Fr.Pe.part2.rar
http://nitroflare.com/view/D089D8552DE5B20/Hi.of.Ru.Fr.Pe.part3.rar
http://nitroflare.com/view/63E8BB038EFAEE0/Hi.of.Ru.Fr.Pe.part4.rar
http://nitroflare.com/view/52550100588C143/Hi.of.Ru.Fr.Pe.part5.rar
http://nitroflare.com/view/8BA38B3A4FA4AC2/Hi.of.Ru.Fr.Pe.part6.rar
http://nitroflare.com/view/0BFF255B08A762A/Hi.of.Ru.Fr.Pe.part7.rar
http://nitroflare.com/view/04760312B5164F3/Hi.of.Ru.Fr.Pe.part8.rar


https://rapidgator.net/file/7fbeef3e3b7f6461b27a5f7b13311301/Hi.of.Ru.Fr.Pe.part1.rar.html
https://rapidgator.net/file/8cd0dfc61e189d577d129f1ff4af305c/Hi.of.Ru.Fr.Pe.part2.rar.html
https://rapidgator.net/file/aab9120cfdcf608952c97529de01f7d9/Hi.of.Ru.Fr.Pe.part3.rar.html
https://rapidgator.net/file/38d84351c60db9b299cfa23184331803/Hi.of.Ru.Fr.Pe.part4.rar.html
https://rapidgator.net/file/66d1d46105db0ca9f9a75e71bca42eda/Hi.of.Ru.Fr.Pe.part5.rar.html
https://rapidgator.net/file/efe0c3d81ad2746b87990b2eb7539572/Hi.of.Ru.Fr.Pe.part6.rar.html
https://rapidgator.net/file/74f7497bbc568c3914c1f70cbf112a27/Hi.of.Ru.Fr.Pe.part7.rar.html
https://rapidgator.net/file/9ab1abca8240a7fea0bf7771c79b7a99/Hi.of.Ru.Fr.Pe.part8.rar.html