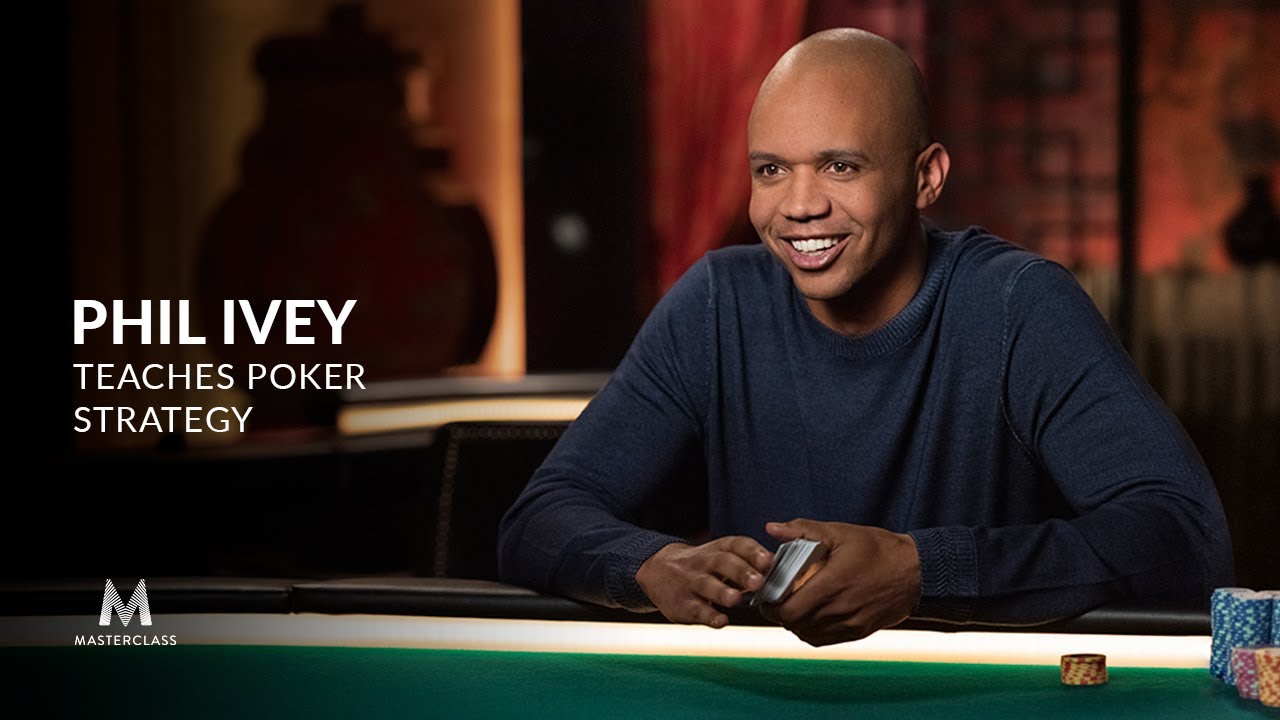 MasterClass – Phil Ivey Teaches Poker Strategy
.MP4, AVC, 4800 kbps, 1920×1080 | English, AAC, 192 kbps, 2 Ch | 3.08 hours | 4.63 GB
Widely regarded as the world's best all-around poker player, Phil Ivey typically plays his enigmatic table presence to his advantage. He's been called poker's most mysterious player and earned worldwide respect as one of the best players in history.
The Poker Hall of Famer has won a World Poker Tour title and more than $26 million in live tournament earnings, landing him among the top 10 biggest all-time money winners. At age 38, he became the youngest player in history to take home 10 World Series of Poker bracelets. He's been playing poker seriously for almost 25 years, and now, for the first time, he's opening up about his process.
In Phil Ivey's MasterClass, he pulls back the curtain on his mental game. Learn poker strategy, poker tips, and techniques for plays like floating the flop and using suited connectors. In his class, Phil walks you through his approach to betting tactics and table image and reviews some of his most famous hands. He also teaches you strategies he's never talked about before, from smarter deep-stacked play and blind-defense tactics to effective bluffing. Get unparalleled access to Phil's thought process-and learn how to play poker with a champion's mindset.
In this online class, you'll learn about:
• Phil's journey
• The mental game
• Poker philosophy
• Bankroll management
• Table image and tells
• Analyzing hands
• Blind defense
• Playing suited connectors
• Floating the flop
• Bluffing
• Deep-stack play
Lessons
01.Phil's Journey
Meet your new instructor: ten-time World Series of Poker bracelet winner, Phil Ivey. In your first lesson, Phil explains why he's finally opening up about his game and reveals the exact moment he fell in love with poker.

02.Preflop and Blind Defense
Phil breaks down the importance of table position, debunks a common misconception about hand-range charts, and shares tips for defending the blinds.

03.Betting Tactics
Betting in poker is all about maximizing value and minimizing risk. Phil reveals his take on tactics like overbetting, bluff catching, and three-betting, and for the first time, shows how he's used these tactics in past hands.

04.Bluffing
Using some of his favorite hands as teaching tools, Phil explains the importance of monitoring your opponents' stacks and details the ideal circumstances for pulling off a convincing bluff.

05.Postflop, Part 1
Phil provides an in-depth look at a number of different postflop situations. Learn when to slow play a hand, how to float the flop, and which draws to play depending on the context.

06.Postflop, Part 2
Knowing when to shut it down is just as important as knowing when to go in for the kill. Phil discusses the dangers of overplaying a hand and explains how to avoid costly mistakes on the river.

07.Deepstack Play
Deepstacked poker is still anyone's game. Phil teaches you how to make the most of your suited connectors and pocket pairs, and analyzes two hands where implied odds determined the outcome.

08.The Mental Game
Phil pulls back the curtain and reveals exactly what his thought process was during a hand. He shares his tips for inducing tilt and dealing with tough losses, and explains what is really behind the "Ivey glare."

09.Table Image and Tells
Phil discusses the danger of assumptions when it comes to table image, and reveals one of his favorite tactics for gathering information about opponents.

10.Strategies for Success
Learn how to train like Phil as he shares some of the practice routines that have helped him get to where he is today.

11.Closing
Phil shares the pitfalls of early success and talks about how he's grown in his 25 years of playing the game.
More Info

https://www.masterclass.com/classes/phil-ivey-teaches-poker-strategy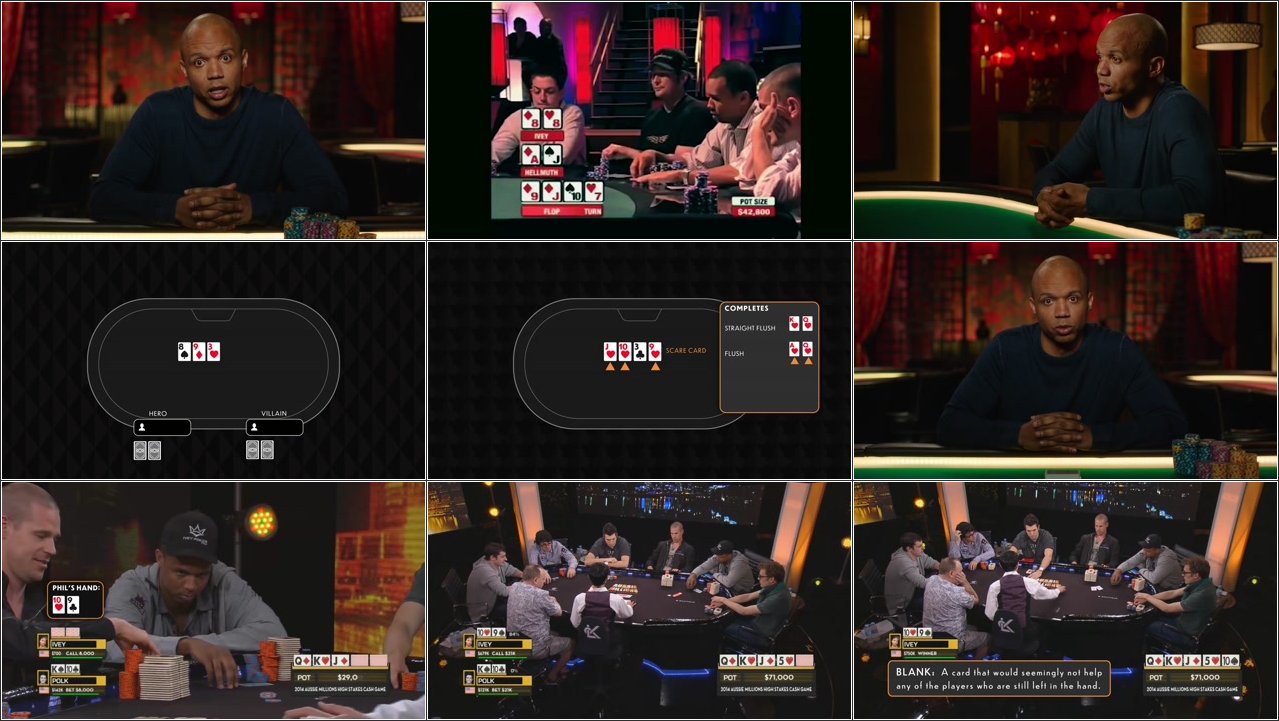 http://nitroflare.com/view/9F3F9D9B3DD94AF/MasterClass_-_Phil_Ivey_Teaches_Poker_Strategy.part1.rar
http://nitroflare.com/view/0F043E741EABA41/MasterClass_-_Phil_Ivey_Teaches_Poker_Strategy.part2.rar
http://nitroflare.com/view/E31AB9BAA9179E4/MasterClass_-_Phil_Ivey_Teaches_Poker_Strategy.part3.rar
http://nitroflare.com/view/8F68C16925862C2/MasterClass_-_Phil_Ivey_Teaches_Poker_Strategy.part4.rar
http://nitroflare.com/view/A35E07FAF1CED35/MasterClass_-_Phil_Ivey_Teaches_Poker_Strategy.part5.rar


https://rapidgator.net/file/90e77777c8beceb0d9390657fb7cfe81/MasterClass_-_Phil_Ivey_Teaches_Poker_Strategy.part1.rar.html
https://rapidgator.net/file/73138a6d5ce7803ddc092f1d260b4f5c/MasterClass_-_Phil_Ivey_Teaches_Poker_Strategy.part2.rar.html
https://rapidgator.net/file/4621b2f83c09b503f249df8da0815bb7/MasterClass_-_Phil_Ivey_Teaches_Poker_Strategy.part3.rar.html
https://rapidgator.net/file/2c60995083af26c407854a83aee84155/MasterClass_-_Phil_Ivey_Teaches_Poker_Strategy.part4.rar.html
https://rapidgator.net/file/ad2d7ec16f44a343500c689fc5b64e18/MasterClass_-_Phil_Ivey_Teaches_Poker_Strategy.part5.rar.html