S.W.A.T. Workout – Complete Training (by Tom Stroup, 2008)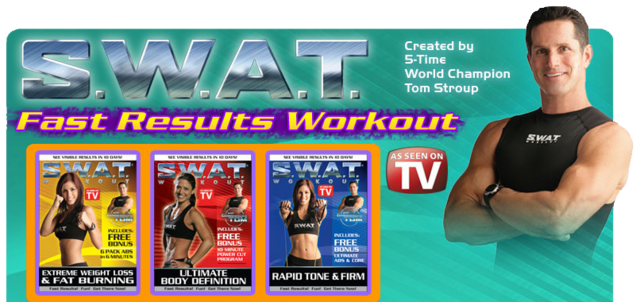 DVDRip (avi, HD-LQ)
Description:
Tom Stroup, known as Commander Tom, is a special forces officer with 23 years of training experience. Tom is a five-time world champion and a gold medalist of police competitions. And besides, he is the leading certified trainer of the national police team. Tom used the team training method to create a fun and effective workout that will give you a boost of energy and make you feel ready for the daily challenges.
Start today and make your life better!

S.W.A.T. Workout: Extreme Weight Loss and Fat Burning
A no-nonsense, calisthenic-style program led by Tom Stroup, a real SWAT team commander. The aero/tone intervals keep you burning calories as you build lean muscle. The cardio segments are easy-to-follow but tough – a mix of sports moves, athletic training and military drills. The toning sections include a varied medley of proven body-sculptors like lunges, push-ups, bicep curls and tricep extensions. Tom is motivating and intense, but also friendly and supportive (never "in your face" harsh). "SWAT-style" setting with flashing lights and police vehicles. DVD has a bonus 6-minute ab workout. Requires 3 to 5 lb. dumbbells.

S.W.A.T. Workout: Ultimate Body Definition
Led by a real SWAT team commander, you'll use light dumbbells and lots of reps to re-shape your entire body. Squats and lunges, bicycles and curls, shoulder presses and lateral raises – you get all the proven classics. But Tom Stroup keeps you motivated and engaged by using them in varying tempos, body positions and combinations (e.g. first one arm, then the other, then both arms at the same time). Throughout, he's friendly and informative with a strong focus on proper form. Note: The "warm-up" isn't just static stretches; it's fast-paced and uses dumbbells. "SWAT-style" setting with flashing lights and police Hummers. Requires 3 to 10 lb. dumbbells.

S.W.A.T. Workout: Rapid Tone and Firm
A no-fluff, total-body-toner that uses resistance tubing to maximize results. These proven-effective, weight-room-style exercises just utilize the tubing instead of traditional dumbbells. It's led by Tom Stroup, a real SWAT team commander. His instruction is friendly and informative – he explains the routine, describes why it's important and shows which muscles you're shaping. Tom works each muscle group in a varied, well-planned progression as he quickly moves from one set to the next (using on-screen notices to prepare you for the next series). Features an energizing, SWAT-style set (e.g. police trucks and barricades). Requires X-ertube (or a resistance band).

S.W.A.T. Workout: Rapid Tone and Firm – Abs / Core (bonus)
Bonus Abs / Core Workout is attached to this videos. It is included in the general video but it is – additionally – put it in a separate file. If desired, it can be used in addition to Ultimate Body Definition or to any other workout, where there is no segment of the development of core muscles.

Tom Stroup, aka "Commander Tom" is a real S.W.A.T. Commander and has over 23 years of training experience. Tom is a 5 Time World Champion and Gold Medal Recipient for "Toughest Cop Alive". Tom is AFFA Certified and lead trainer for the National S.W.A.T. Competition Team. He has taken his proven fitness techniques and created a fun, effective workout that will leave you feeling more energized and ready to take on life's challenges. Start today and make the rest of your life the best of your life.

Qualifications:
Certified by AFAA in personal trainer and group fitness. Five-time world champion in International SWAT Competition, 23 years SWAT training experience (over 1200 SWAT missions). Physical fitness Trainer for National SWAT teams.

Personal History:
After I got out of the Army, I got a job working in a rock quarry. One of the nearby farmers mentioned that the local police department was hiring. Prior to that moment it never crossed my mind. I just assumed I would always work in a rock quarry. Once I went away to the police academy, which was located at state university, it was like someone had just opened the doors to the whole world and it was the first time I had ever seen it. I ultimately graduated from the academy with the highest P.T score in my class and I have been going to "school" ever since. Once I got on the department I sought out the most exciting jobs — underwater search and rescue, undercover narcotics and Swat.
Then one day I arrived late to a drug bust operation and got "stuck" doing the vehicle inventory. I told a buddy of mine that I needed to work out because I was bored. We could not leave our post so he suggested some push ups. One thing led to another, and it soon became pushups, jumping jacks, mountain climbers, lunges and anything else we could think of. I had never done this type of workout before and I instantly loved it. I spent many months creating new exercises for the upper and lower body. I wanted to create a real full body workout that include, not only all of the muscles in my body, but incorporated forward, backward, lateral and vertical movements. At he same time I wanted the exercises to alternate between the upper body and lower body and I wanted them all to be safe and effective.
After several months of showing other people and seeing great results, I was encouraged to teach at the YMCA. My classes are one of the largest classes taught at my YMCA. It is so large that we utilize the basketball gym. I have had as many as 90+ and regularly have an average of 75 each week.

Workout Philosophy:
Physical fitness is not just about how hard you work out. It is about creating a lifestyle that allows you to do everything else in life. "Start today and make the rest of your life the best of your life."

Success Story:
I had a woman approach me and tell me that she wanted to lose 18 lbs, tone, and firm her body. She had 2 children and was in her late 30's. Her doctor told her that, because of her age and the fact that she had 2 children, she would not be able to lose the weight. After 6 weeks of the Swat Workout Weight Loss program, we met for a 'weigh-in.' I will never forget the look on her face when she looked at me and realized she had lost 19 pounds. She said that she was now wearing the same clothes she wore in college and that she felt like a new woman. My own son approached me one day and said, "Dad, you have helped other people lose weight, can you help me?" We spent the next few months on the S.W.A.T. Workout Weight Loss and Body Definition program and he lost over 75 pounds. When I asked him why he did not come to me sooner, he said that he thought that he was meant to be heavy and that he could never lose the weight. We now work out, jog, bicycle, swim, and wrestle and he is now able to do whatever he wants without his weight limiting his lifestyle.
Download:

S.W.A.T. Workout: Extreme Weight Loss and Fat Burning:
https://rg.to/file/d30c231da8da6dff611d7c91f4304c61

S.W.A.T. Workout: Ultimate Body Definition:
https://rg.to/file/f3e79d31f83224f3c438e3b3d4a36abd

S.W.A.T. Workout: Rapid Tone and Firm:
https://rg.to/file/c7613c70e45a9ddaeb27bbcb271a9d9a

S.W.A.T. Workout: Rapid Tone and Firm (bonus):
https://rg.to/file/d17db2aafd4c096ef29f524e7adef369