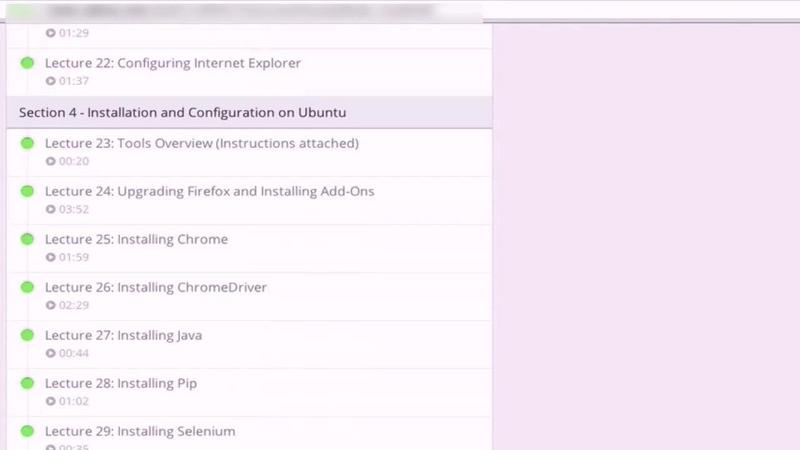 Selenium WebDriver with Python – Basics to Intermediate
General:
What you'll learn

By the end of this course, you will be able to build solid selenium automated tests using Selenium Webdriver Python API.
You will learn how to install selenium on different platforms (Windows, Mac OS X or Linux Ubuntu).
You will know how to locate web elements using XPATH or CSS Selectors.
You will learn how to apply actions (clicking an element, sending keys to an element, selecting an element from a drop-down list etc) to web elements.
You will learn how to queue selenium actions using ActionChains.
You will know how to organize your selenium tests code in packages and how to wrap selenium calls.
You will learn how to leverage concepts like Page Objects and UI Mapping in order to make your selenium tests code maintainable.
You will know how to use nose to collect selenium tests without the need of manually creating a test suite file.
You will learn how to distribute your selenium tests using Selenium Grid.
You will learn the best practices when writing your selenium tests.

Course content
Expand all 81 lectures03:25:32
+Introduction
4 lectures05:56
+Installation and Configuration on Mac OS X
7 lectures10:43
+Installation and Configuration on Windows
9 lectures13:09
+Installation and Configuration on Ubuntu
9 lectures14:52
+Overview of Selenium IDE
4 lectures12:17
+Creating My First Selenium Test
2 lectures07:22
+Locating Web Elements
6 lectures10:51
+Overview of Python Unittest Module
4 lectures06:49
+Webdriver API: Finding Element(s) and Applying Basic Actions
6 lectures17:41
+Webdriver API: Switching Focus to a Window, an Alert or a Frame
4 lectures06:59
+Webdriver API: ActionChains
4 lectures11:32
+Organizing and Refactoring Your Code
2 lectures06:57
+Design Patterns: Page Objects
4 lectures29:28
+Using a UI Map in your Tests
2 lectures05:00
+Testing Made Easy: Nose
3 lectures14:51
+Selenium Grid: Distributing Selenium Tests
4 lectures25:06
+Best Practices for Writing Solid Selenium Tests
5 lectures04:20
+Conclusion
2 lectures01:39
Requirements

Environment: MAC OS X, Windows or Ubuntu Desktop. Most of the tutorial uses MAC OS X but you will still be able to follow using Windows or Ubuntu.
Mac OS X and Ubuntu users: A system with Python 2.7.x is required for this training. OS X Lion, OS X Mavericks, Ubuntu 12, 13 or 14 come with Python 2.7.x already pre-installed.
Browsers: Firefox, Chrome and/or Internet Explorer.
Be comfortable with the command line.
Basic knowledge of Python.
Video:
Width: 1280 pixels
Height: 720 pixels
Format: AVC
Codec: AVC
Duration: 00:02:26
Bit rate: 790 Kbps
Frame rate: 30.000 fps
Aspect ratio: 16:9
Bit depth: 8 bits
Color space: YUV
Subtitles: N/A
Audio:
Audio track: 1
Language: N/A
Codec: AAC LC
Channels: 2
Bit rate: 76 Kbps
Compression: Lossy
Sampling rate: 44 Khz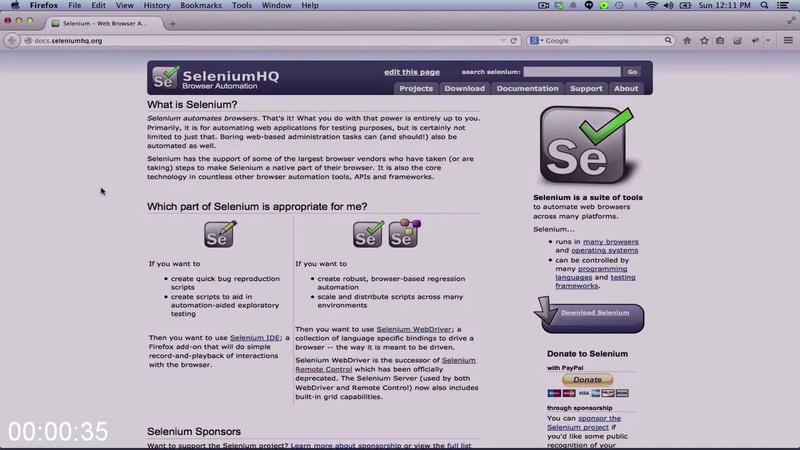 Download from NitroFlare

http://nitroflare.com/view/A0B2746D0AED0C9/tim5y5u3w15zdb.zip

Download from
Download from FileFox

https://filefox.cc/gs74r12jvqw4/tim5y5u3w15zdb.zip

Extract the archives with Winrar 5 or WinZip(zip files) & password
Password: Golden_Plaza