You Are Your Own Gym – Mark Lauren [ 3 DVD Set ] – [ 12 AVIs , 1 PDF ]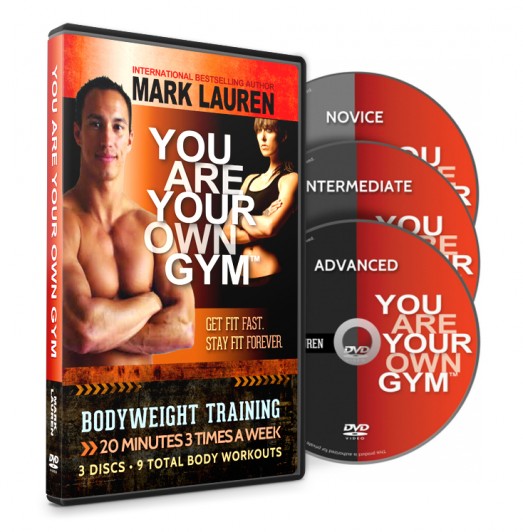 You Are Your Own Gym – Mark Lauren [ 3 DVD Set ] – [ 12 AVIs , 1 PDF ]
English | Size: 1.36 GB

The 3-DVD set is polished and professionally produced. It's a "follow-along training resource," meaning that you plug in the DVD and follow along with him as he demonstrates and guides you through the workouts.
The program is organized into three levels of experience: Novice, Intermediate and Advanced. It also includes a warm up and cool down for each workout.
Based on a suggested three workouts per week, lasting about 20 minutes each, Lauren provides three exercise protocols for each experience level built around 4 full-body exercises per session:
Timed – Timed sets of 4 exercises interspersed with appropriate rest periods. You complete four sets of each exercise, resting between each set and moving on from one exercise to the next.
Ladders – Ladders are a form of progressive resistance training which involves adding repetitions on subsequent sets. In other words, you do a set of a single reps of two alternating exercise. Then you do two reps on the next set, then three, then four and so on.
Circuits – Circuit training involves completing different exercises one after the other with little or no rest in between. When you finish the sequence, you repeat it over again for a pre-determined number of rounds.
Who Is This Program For?
People getting started or coming back from a layoff – I found the novice level workouts to be a realistic starting point based on an "average client" from my own teaching experience as a guideline.
Of all the bodyweight programs that I've evaluated, "YAYOG" is the best I've found for people who are just getting started with their training or coming back to it after a layoff.
People in better-than-average shape – If you're already in good shape, the advanced workouts are definitely intense enough to kick just about anybody's butt! The novice, intermediate and advance workouts can also be alternated to create easy, medium and hard days in your training cycle.
People specifically looking for "Naked Training" – Because you don't require any equipment, the program is ideal for people who travel a lot, are on a limited budget, have limited space in their home or live in an area without a gym nearby.
People who prefer a "follow along format" – As opposed to instructional DVD's that demonstrate and explain exercises and leave you to incorporate them into your workouts, this program guides you through each workout from start to finish.
People looking to mix up their workouts – regardless of your preferred training method, this program will allow you to mix up your workouts with bodyweight training sessions.
Highly Recommended
If you're looking for a reasonably priced ( bucks!), well thought out and professionally produced follow-along workout resource, I highly recommend "You Are Your Own Gym."
F.Y.I – Mark Lauren also has an excellent book also called " You Are Your Own Gym" and a iPhone app that provides video instructions on dozens of bodyweight exercises. Both are well worth the investment.
Overall, the DVD's are an excellent investment and the exercises provide a strong foundation to build off. Once you've gotten use to the exercise protocols you can incorporating other activities or substitute different body weight exercises as you progress.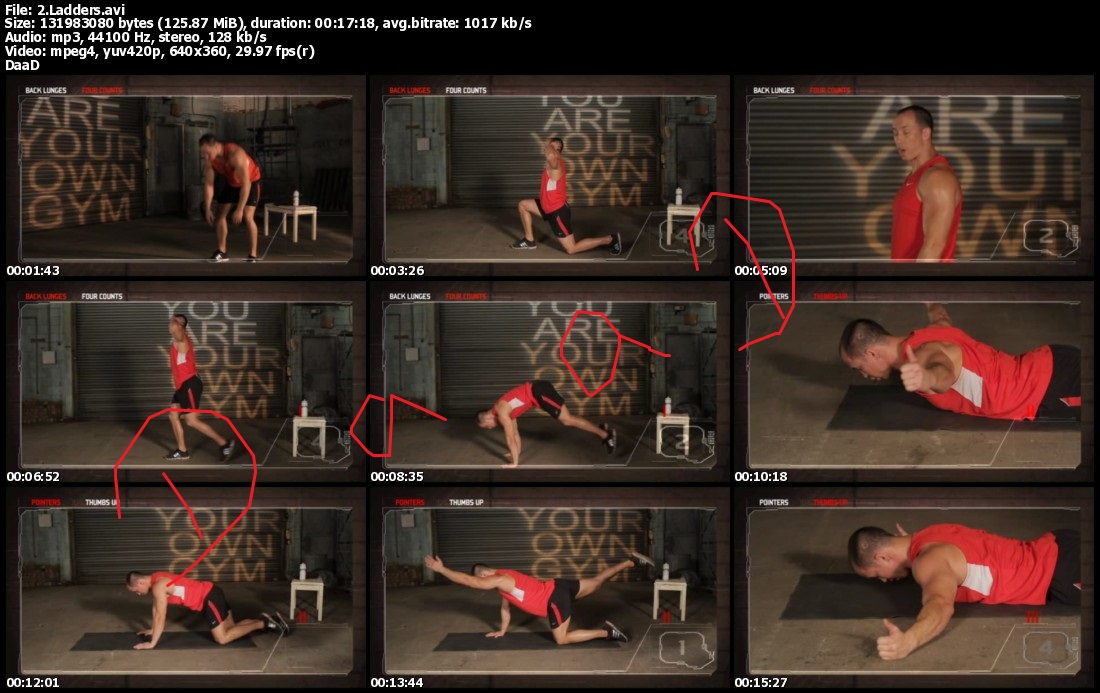 http://rapidgator.net/file/33709db1dfa7bdbf3947d6516ebd4ea0/sdg48U-ArUrOwnGymMrkLren.part1.rar.html
http://rapidgator.net/file/489462930d2c6d8349eedc6136665939/sdg48U-ArUrOwnGymMrkLren.part2.rar.html
http://rapidgator.net/file/1e28a10ff93b09006b67c361c994445f/sdg48U-ArUrOwnGymMrkLren.part3.rar.html